Erik and Rachel Ness
Tanzania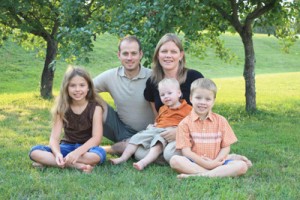 Prior to their joining Care of Creation in 2011, Erik and Rachel Ness served with Food For The Hungry (FH) in Kenya.  During their first term with FH, they worked in the arid, northern part of the country in Marsabit District.  Erik operated a variety of programs including tree planting, livestock development, and community education and trainings; while Rachel was involved in discipleship and teaching of women and children in the local church.  For their second term, they transferred to the capital city, Nairobi, to assist FH Kenya's administrative team.  Erik was involved in various administrative tasks, including overseeing much of FH Kenya's water projects; while Rachel was at home with their three children (two of which were born in Kenya).
Erik and Rachel both graduated from Winthrop University in South Carolina, Erik with an MA in Biology and Rachel with a BA in Social Work.  Erik taught for several years in both public and private schools before coming to Kenya with FH, while Rachel worked in Foster Care and Adoptions before the birth of their first child, Renee.
Erik and Rachel also both grew up as Wycliffe Missionary Kids, Erik living most of his childhood in northern Kenya, and Rachel living in both Cameroon and Kenya.  They attended and meet at a mission boarding school, Rift Valley Academy, and were married in 1994.  Erik and Rachel are blessed with three children, Renee (Oct 31, 1999), Zachary (April 8, 2003) and Kyle (Nov 1, 2007).
Stay connected to Erik and Rachel by subscribing to their newsletter.