Our Father's World Awareness Campaign
it looks like you've found an old page on our website.  Please head to our home page for the latest information!
"Our Father's World"
Mobilizing the North American Church
to Respond to the Environmental Crisis
Our Father's World is our comprehensive awareness campaign.  We believe that the church is the key to solving the environmental crisis.  But the church can't do this until the people in the church – that's you and me – become aware of two things:  What the Bible has to say about God and his creation; and what is really happening in the world – the realities of a creation already groaning in agony.
The Our Father's world awareness campaign is based on the book by Ed Brown of the same name and a weekend seminar for churches that builds on the content of the book.
---
The Book
Our Father's World:
Mobilizing the Church to Care for Creation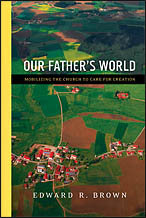 Ed Brown's book is a new approach to the environmental crisis, combining solid biblical and theological exposition with practical, church based advice that anyone can use to mobilize their own church to care for God's creation.  It was published first in December 2006 by Doorlight Publications, and a revised and longer edition came out in April 2008.  The new edition includes discussion questions and is the ideal resource for a small group setting.  Reading a chapter a week, your group could cover the entire topic in about three months.
---
The Seminar
Our Father's World:
Why Christians Should Care
about the Environmental Crisis
Ed Brown is the main presenter of this weekend seminar for churches that builds on the content of his book.  Using a lot of Biblical material, he guides participants toward an understanding of the environmental crisis that is biblical but realistic.  We have designed the seminar to be affordable for a church of almost any size and we're now booking dates around the country.