The Book
Our Father's World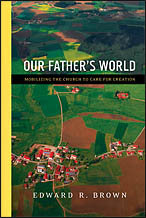 Mobilizing the Church to Care for Creation
(revised edition)

by Edward Brown
Director of Care of Creation
Published by InterVarsity Press (list price $15.00)
Description:
How should Christians respond to the current environmental crisis? Our Father's World is a passionate and practical assessment from one of the leaders of the evangelical creation care movement. This book offers a biblical framework for creation care as well as a practical guide for students, churches, mission agencies and ordinary Christians. It is valuable for both believers and skeptics, especially those who are confused about what the Bible has to say about creation care and the responsibility of Christians. Our Father's World is also a measured and thoughtful response to skeptics such as E. O. Wilson who have pleaded with Christian leaders to take up the challenge of caring for the environment.
What's New in the Revised Edition?
The new Our Father's World is about 20% longer, with updated material, several new chapters and a discussion guide suitable for small groups or Sunday School classes
What others have said about "Our Father's World":
Publisher's Weekly (March 3, 2008):
Well-written and persuasive, Brown's book takes a hard look at the current crisis, but also expresses optimism that Christians can and will change the world.
Professor E. O. Wilson, Harvard University has commented:
Our Father's World is a beautiful and inspiring book. I will keep it on hand both for consultation and reference. When I first opened it, the question on my mind was, "Will evangelicals read it?" As I approached the close, the question became "Will secular environmentals read it?" They need to read it, and understand the power Christianity has to help save the living environment–not just in voting numbers, but also out of strength from spirituality and rational argument.
David P. Gushee, Distinguished University Professor of Christian Ethics, McAfee School of Theology, and President, Evangelicals for Human Rights says:
Our Father's World offers a marvelous contribution to the evangelical creation care movement. The book is simultaneously intellectual and practical. The first half of the book offers a rather comprehensive recasting of core biblical theology themes in a remarkably accessible way. It shows the potential for mainstreaming creation care concerns into evangelical theology, which is crucial for the future of creation care among us. The second half of the book turns in a very practical direction, offering a thoughtful and thorough treatment of action steps for Christian care of creation. What I most appreciate about the book is Brown's recognition that ultimately the crisis in God's creation is a spiritual problem, a failure to live rightly before and with God and neighbor, and therefore it requires a profoundly spiritual solution. This means that the church, more than the state, holds the key to the human future. An excellent book.
What some others are saying about this book:
"This book is a remarkable combination of a broad spectrum of the environmental crisis in the world today coupled with a deep understanding of God's desire for His creation as developed in the scriptures. It is full of well written illustrations that show what the Church (universal) and the church (local) needs to do to obey God's commands and desires for His world. I highly recommend this book as both easily readable yet profound in its challenge to Christians and others today."
David M. Howard
Former President, Latin America Mission

"Our Father's World clearly lays out how mistreatment of the physical world around us is the result of sin, how care of God's creation is a biblical mandate and how the Church, the corporate body of believers around the world, can bring about significant change. The issues this book addresses are vitally important for Christians today. "
Dr. James Tebbe
Director, InterVarsity's Urbana Student Missions Conference

"This is an important book that should be on every pastors shelf and in every church library. Creation today is crying out for the Church begin preaching and practicing the full biblical message of stewardship."
Dr. Joseph K. Sheldon
Professor of Biology and Environmental Science, Messiah College
---
Author Ed Brown presents a seminar for churches and student audiences covering the topics in the book Our Father's World. More information including how to schedule a seminar in your area is available here.