A Tropical Conference-April 2013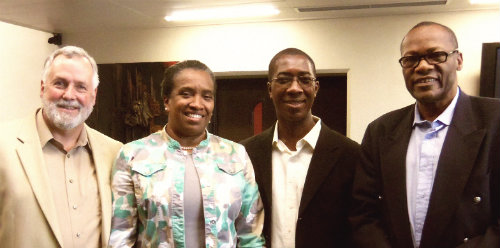 Presenters-from left to right: Ed Brown, Denise Thompson, Desmond Rogers, and Las Newman
Inspired by the historic Lausanne Consultation on Creation Care and the Gospel in November (see the Call to Action here), church leaders, climate scientists and university students gathered in Port of Spain, Trinidad to explore specific environmental challenges in the Caribbean, how creation care is linked to the Gospel, and the ways Christians may respond to restore creation.
From April 18th to the 21st, conference goers heard from Dr. Las Newman, President of the Caribbean Graduate School of Theology and International Deputy Director of the Caribbean for the Lausanne Movement, Rev. Desmond Rogers, Regional Secretary for the Caribbean IFES Movement, Katherine Hayhoe, Climate Scientist with the IPCC, and Rev. Edward Brown, Executive Director of Care of Creation and Senior Associate for Creation Care for the Lausanne Movement.
One way Trinidad and Tobago is striving to steward their environment well involves collecting recyclable plastic in and around Port of Spain, a campaign called Plastikeep.  Their mission is to collect and recycle plastics so that they are kept from overburdened landfills, as well as encourage people to reduce their consumption of plastic goods.  By January 2011, they had collected 17,000 pounds of recyclable plastic!
This November 2013, another Creation Care conference will be held in Port of Spain to spur on a national creation care movement in Trinidad and Tobago; other Caribbean nations are currently looking to join this effort as well.  Are you interested in being part of this Caribbean movement to care for God's creation?  Write to us and we'll put you in touch with the conference organizers in Trinidad and Tobago!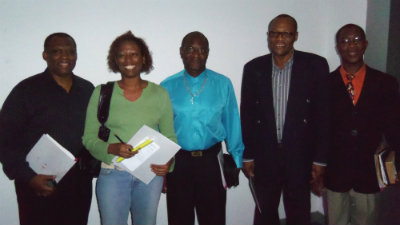 Left to Right: three attendees converse with Las Newman and Desmond Rogers, presenters at the Conference.
Thanks to Dr. Thompson and the InterVarsity chapters of the University of Trinidad and Tobago, as well as the University of the West Indies and the Lausanne Movement for hosting and sponsoring this event.